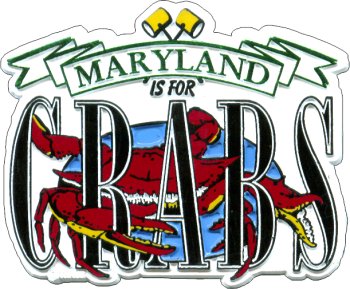 Time for me to get off my rant horse and have a little fun here. It's Friday, anyway.

Tonight for dinner, LC cooked up an inexpensive box of crabcakes. They were all right; they weren't great, but then again, we weren't expecting any of the fine Maryland seafood places that specialize in crabcakes. Being from Maryland, we're spoiled that way; you might even call us crabcake snobs.

I've always loved crabcakes. You can buy them fully cooked, as pre-cooked patties, or just buy the crab meat mixed with the shells or hand- or machine- picked. I remember my mom licking the shells out of crabcakes on many a summer day (all right, not THAT many; crab meat isn't always cheap). And whereas LC gets a kick out of picking the meat out of steamed crabs, I don't enjoy it quite so much, although I'll open them up and eat the meat as well.

Crabcakes can be either fried or broiled. I've had them both ways, and I prefer broiled; I think there's more crab to taste that way. I often like them with just a dash of Worcestershire sauce and maybe a drop or two of lemon.

Some great places to sample crabcakes in Maryland include finer restaurants like Sunset, near the former Casa del Cyg in Glen Burnie; Buddy's Crabs and Ribs in Annapolis; Phillips in Baltimore, Ocean City, and elsewhere; and Dutch's Daughter in Frederick. But you can get perfectly good ones also at more casual locations like G&M's in Linthicum (that might be the best of all, and I advise getting carryout so you don't have to wait nearly as long as to sit down), Timbuktu in Jessup/Hanover, Roy's Kwik Korner in Glen Burnie, and May's in Frederick. Any of these places will give you baseball-sized crabcakes. If you can get a platter that includes two cakes, get it and save the other for the next day or whenever; I doubt you'd consume both at the same meal anyway. If you can't get here, you can have crabcakes shipped to you.

Just as yummy is cream of crab soup. Sunset serves its cream of crab with a small sherry bottle. Rocky Run has good crabcakes, but even better cream of crab soup. Maryland crab soup, which is more vegetable-based, is also popular, although it's not my favorite.

When I was working in Tampa many years ago, I went to lunch with a few cow-orkers at the Colonnade, a restaurant with a beautiful view of Tampa Bay. I decided to sample their "Maryland style crabcakes," feeling that as a connoisseur, I could judge whether theirs were genuine. Well, I can assure you: they weren't. It seemed almost as if sand was the filler, and the crab meat was nonexistent. In their defense, it was the onset of winter, and there really isn't any local crab population to speak of. And occasionally during Maryland's crab off-season, restaurants may import some crabs from Louisiana. But this year's MD crab haul was reportedly a good one.

This post is making me hungry. Better go to bed with visions of crabcakes and Natty Boh (the official adult beverage of crabs and crabcakes) in my head! Let me know of any places I forgot.